Lena Miranda is my guest in my latest podcast. She is the CEO of the Science Park in the city of Linköping in Sweden. Science Park is a concept developed in the US in the 1980s to stimulate innovation and collaboration between different stakeholders.
I also met Lena some weeks ago at the new social media platform – Clubhouse – where we talked about innovation and stakeholder relations in the transition of cities, regions and nations. Science Parks is one of the frontiers in this development which gives ideas for change. In Clubhouse I have met with Otto Scharmer from MIT who addressed thoughtful leadership in the process of going from EGO-System to ECO-system. There I also met with Indy Johar from Dark Matters Lab who presented ideas of how to accelerate city transition. Clubhouse is an interesting social platform for debates. It is also a great place for me to talk about the work I do in Transformers.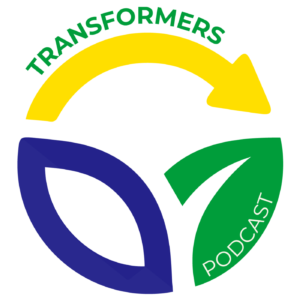 I started Transformers, my podcast, in the middle of the pandemic, hoping that the climate emergency debate would reach individuals, families, think tanks, politicians, businesses, academia and organisations. To have an overview of my podcast, I have listed all 19 programmes already produced in case you are a new follower and would be interested to learn how leaders are working to change society and address the climate crises.
Lena Miranda is the CEO of the Science Park in the city of Linköping in Sweden. Science parks aims to increase the wealth of its community by promoting the culture of innovation and the competitiveness of its associated businesses and knowledge-based institutions. Lena is also chair of Swedish Incubators & Science Parks and chair of the European Division of the International Association of Science Parks and Areas of Innovation. She is also a member of the National Innovation Council in Sweden.
Svante Axelsson – World Leaders to be inspired for actions – Svante is the Swedish national coordinator for Fossil Free Sweden, a governmental initiative that brings together companies, municipalities, regions and organisations that stands behind the declaration that Sweden will be one of the first fossil free nations in the world. He was awarded in 2021 as Sweden's most powerful influencer by the newspaper Aktuell Hållbarhet.
Read the blog post: The Swedish steel and iron mining industry investment into the low carbon revolution in the Arctic
Uffe Elbaek Part 2 – Politics that matters – Politics have always been a part of Uffe's life. He is active in the Social Liberal party, the Danish alternative to the Independent Green Party. This second episode with Uffe focus on his life in politics. Music Love and Freedom by The Savage Rose selected by Uffe Elbaek.
Uffe Elbæk part 1 – At the forefront of Education – Kaos Pilots – Uffe is a journalist, politician and system entrepreneur. He has been Minister of Culture in Denmark and since 2011 Uffe is a member of the Danish Parliament. In 1991 Uffe founded one of the world's most creative educational programs – the Kaospilot. A 3-year Enterprising Leadership Program focusing on project management, process leadership, and business development and to be identified as a changemaker, entrepreneur and leader.
Read the blog post: At the Forefront of Education
Albert Nashon and Renalda Mwanyuma – Digital revolution in Kenya – Both Albert and Renalda are from Nairobi, Kenya. Albert is a social entrepreneur and the founder of The Slumcode Group, an organisation that promotes digital inclusion to less advantaged youngsters. Renalda is the Head of Special Programs. The Slumcode Group has engaged over 200,000 people in the past 15 years. Music by Poeta Dennis featuring Janlizz and Prince Krew Empire featuring Poeta.
Read the blog post: Africa in the Sun
Epi Ludvik – Crowdsourcing: what is it and how it works? Epi is a leader in the world of Crowdsourcing. He is the founder of Crowdsourcing Week an organisation that promotes the engagement of crowds or groups for common goals across the globe, through conferences, summits and online networking. Epi has also created one of New York's hottest boutique virtual ad Agencies built on a 100% Crowdsourcing model. Eva-Lena Skalstad is the Executive Director of Lapland Vuollerim Welcomes You, Sweden.
Read the blog post: Unlocking Human Capital
Marc J. Lane – Money with meaning – the Mission-Driven Venture is a business and tax attorney, financial advisor and practise law at the Law Office of Marc J Lane in Chicago, USA. He is an expert on entrepreneurship and entrepreneurial finance. Marc is also an influential advocate of best corporate governance practise. His latest book The Mission-Driven Venture is a practical roadmap and development arena of social enterprises.
Read the blog post: Money with meaning – the Mission-Driven Venture
Jonathon Porritt – Hope in Hell, a "call to action" on the Climate Emergency – Jonathon is the Founder and Director of Forum for the Future – a UK sustainability organisation. Leading environmentalist, Porritt has advised UK governments in sustainability, helped the Prince of Wales create the business sustainability programme and part of the development of the Cambridge Institute for sustainability and leadership.
Read the blog post: Are you an optimist or a pessimist?
Bert-Ola Bergstrand – Creating the conditions that encourages systems to change is the initiator, founder and co-founder of a number of international platforms and networks in the field of "crowd-impact economy" that involve millions of people across the globe. He is currently working with transformation of neighbourhoods and cities and developing networking tools to strengthen learning processes across communities, sectors and stakeholders.
Read the blog post: Internet the highway for systems entrepreneurs
Mark Watts – The Powers of Mayors. Mark is the Executive Director of C40 Cities Climate Leadership Group. The organisation grew from 63 to 96 of the world greatest cities, representing one quarter of the global economy. Mark Watts is former director of Arup and was the Senior Advisor to the Mayor of London from 2000 to 2008.
Read the blog post: Urban transition in Malmö – Driving system change through joined-up innovation
Phil Ruxton – Kayapo Indians, Croda and COVID-19 Phil is Vice President of Sustainability of Croda and helped

the Executive Committee and Board of Croda International to develop sustainability goals that will make Croda land, people and climate positive by 2030; and Marco Carmini is Managing Director of Croda Latin America and an engineer with over 35 years experience in renewable feedstocks.
Read the blog post: The pandemic that united an indigenous tribe to a chemical company
Mats Andersson was the first CEO to decarbonise a pension fund –

the US$ 43bn AP4; Gregory Wendt has more than 30 years of

experience in the capital market and sustainable finance; and Nick Sramek is the Director of International Relations at Silicon Valley Forum. They discuss the future of investment and pension funds.
Read the blog post: A view for capital markets future
Cecilia Repinski – Green Digital Finance. She is the Executive Director of Stockholm Green Digital Finance, a fintech company designed to support the scaling up of green debt market by connecting green investors with potential green investment opportunities. Her company is the first company in the world with a platform that provides different interfaces that correlate and interact allowing issuers of green bonds, validators and investors to upload and access safe blockchain database.
Read the blog post: Work against the clock
John Elkington – Which colour Swan: black, white or green? John is a world authority on corporate responsibility and sustainable capitalism, a bestselling author and serial entrepreneur. He is known for his role as Ambassador for the Future.
Read the blog post: Which colour Swan: black, white or green?
Kristina Persson – Leadership – Governance and Climate Change – Kristina is an Economist and the former Minister for Nordic Cooperation and Strategic Development. Persson was a Swedish MP and MEP during the 1990s. In 2005, Persson created the Think Tank Global Utmaning (Global Challenges) to promote Sustainable Development.
Pär Larshans – Circular Economy – Pär is a winner of the Trust Across America-Trust Around the World award for global leaders for his role in the transformation into a circular economy. He is Director of Sustainability and Public Affairs at Ragn-Sells group working with waste management, environmental services and recycling.
Read the blog post: From waste to resource: Closing the loop in the circular economy
Anders Egelrud – Climate Positive – City of Stockholm. Anders is the CEO of Stockholm Exergi – one of Sweden's most sustainable and profitable energy company. He will make Stockholm Exergi Climate Positive by 2025.Egelrud explains how Exergi innovative business models for green investment will make Stockholm first climate positive capital in the world.
Read the blog post: Stockholm Exergi: Bio-CCS to tackle climate change and historical emissions
Sean Kidney – Green Bonds – Climate Bonds – Social Bonds…Sean is a key influencer in the green finance market. CEO and Co-founder of the Climate Bonds Initiative. Sean is working to reach a $100 trillion green bond market. On this episode find out more about the markets drivers and tools for issuers, investors, governments and municipalities to help Green Bonds investments deliver a low carbon economy.
Bo Frank – Fossil Free City 2030. Bo is one of the key influencers in the City of Växjö. Ex-mayor and vice mayor from 1991 to 2016, Frank is now President of the City Council. His mission is to make the city fossil free in 2030. He is an outstanding promoter of fossil free strategies and the initiator of a new model of governance for the city.
Read the blog post: From Rio 1992 to Växjö 2019 – the role of governance in creating Europe's first municipal fossil-free strategy
Author :
Kaj Embren
Print
Climate & Environment, Climate Change, Crowdsourcing, Development Policy, Energy, English, EU Priorities 2020, EurActiv.com, Euro & Finance, Global Europe, Innovation & Enterprise, IoT, Leadership and sustainability, Political Governence, Regional Policy, Sustainability, Sustainable Dev.

, Climate change, CSR, Eco Cities, Environment, EU, Investment, Leadership, LeadershipMatters, Paris Climate Agreement, Sustainability and Leadership, Sustainable Cities, Sustainable Development